Oct 13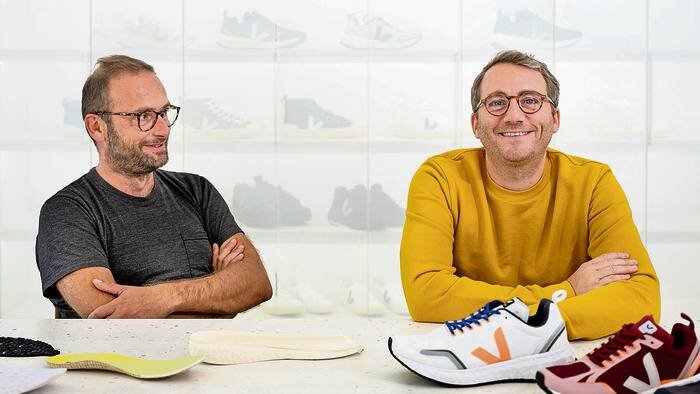 In the world of day to day shoes, few trends have been louder in recent years than that of the designer trainer. From Balenciaga, to Gucci, to Louis Vuitton and even Chanel, $1,000 trainers have gone from fringe to norm. And, while this not so subtle trend of balkingly expensive shoes has recently taken up much of the conversational space in the footwear world, fashionable sneakers have once again been steadily gaining a loyal following in the background.
The world of luxury sneakers, a world of slim fitting, minimalist and often white profiles, was once a small one with only a few players. But, for at least the past six years, luxury sneakers have been on the rise as the young get older and dress codes both at work and in social circles consequently relax. The market for these (nearly) all occasion shoes has also been bolstered by celebrity endorsements, as the likes of Meghan Markle, Gwyneth Paltrow, and the entire cast of The Politician are consistently photographed in the high-end, low effort style. But, if you're reading this article to decide if you're a fan of luxury sneakers or to decide from whom to buy, you likely already know everything I've just laid out. However, the question must be asked; which of these beautifully simple shoes will you buy? I think the answer should be VEJA.
As it stands, the consumer is spoiled for choice when shopping for an upscale, everyday white sneaker, but the France-based VEJA sets itself apart through its frankly unprecedented standards for transparency and environmental sustainability. VEJA, in Portuguese, means "look", and the brand actively encourages the consumer to look more deeply into not just the final product on the foot, but exactly how that product came to be. Because VEJA itself exhaustively details its ethical/sustainable practices (https://project.veja-store.com/en/intro/) in addition to publishing its as yet unresolved shortcomings (https://project.veja-store.com/en/single/limits), I will simply hit the highlights. VEJA's materials are sourced in Brazil, where wild rubber is farmed responsibly by locals in the Amazon Rainforest and pesticide/fertilizer free cotton is farmed in the NorthEast, and these materials are then crafted into sneakers in a factory in Porto Alegre in humane conditions. Since producing its first shoe in 2005, VEJA has sold more than two million pairs of sneakers worldwide, all while avoiding advertising. VEJA says that foregoing advertising and its attendant costs has allowed it to invest significantly more of its resources in its employees, raw materials, and innovation, which has led most notably to vegetal tanned leather and B-mesh, a revolutionary new material made solely from recycled plastic bottles.
Now having had all of this information thrown at you, you may still be unsure that VEJA is the sneaker for you, considering the fact that I've only extolled the company's ethics and said nothing of how the product actually feels. But, having owned the V-10 sneaker and the brand's new, 53% recycled Condor running shoe for a few months, I'd love nothing more than to furnish you with yet another reason to spend your money here.
The primary concerns I hear raised with the V-10 sneaker are that they are uncomfortable, too expensive, and do not always fit true to size. As pertains to the comfort of the shoe, it is important to note that any sneaker with a slim profile and a tight fit over the foot will be uncomfortable, but the V-10s were only so initially; after a few days of wear, I experienced no discomfort. As concerns price, I counter with the fact that many luxury sneakers cost four or five times the price of a V-10, while offering little more in the way of comfort or durability, and certainly offering less in the way of social responsibility. Finally, I must note that my pair of V-10s fit true to size, though I have friends who have had to go through the simple process of switching sizes. Truthfully, it's a wonderful sneaker that feels good and goes with any outfit.
Having praised and defended the V-10, I now take up the task of drawing your attention to the Condor. I feel that doing so is especially important since the world of running shoes is rather new to VEJA, and I have to say that the Condor is a phenomenal first effort; superbly cushioned, well insulated from the havoc that Chicago streets can wreak on less well protected feet, and pretty! Though my Condors show all of the signs of intense running (copious amounts of dry mud, grass stains, and the occasional bloodstain), I still find them pretty enough to wear on occasions outside of exercise.
Ultimately, you have to follow your heart when choosing a pair of sneakers; choosing incorrectly can have catastrophic consequences for your instagram feed or for your chances at working in Silicon Valley. But, at any chance I get, I steer people toward VEJA. Your wardrobe needs them, and so does the world.
Cover Image Via