Before my interest in fashion and handbags really took off, my main aesthetic concern was architecture. As my interest in fashion began to develop, I found myself making pilgrimages to the various physical locations of the designers whose work I most appreciated, and I was pleasantly surprised to find that many of them take great care to create sophisticated, often playful, facades for their stores. In an effort to exalt the connections between architecture and fashion, I am excited to share with you five thoughtful designer storefronts.
1. Hermès, Amsterdam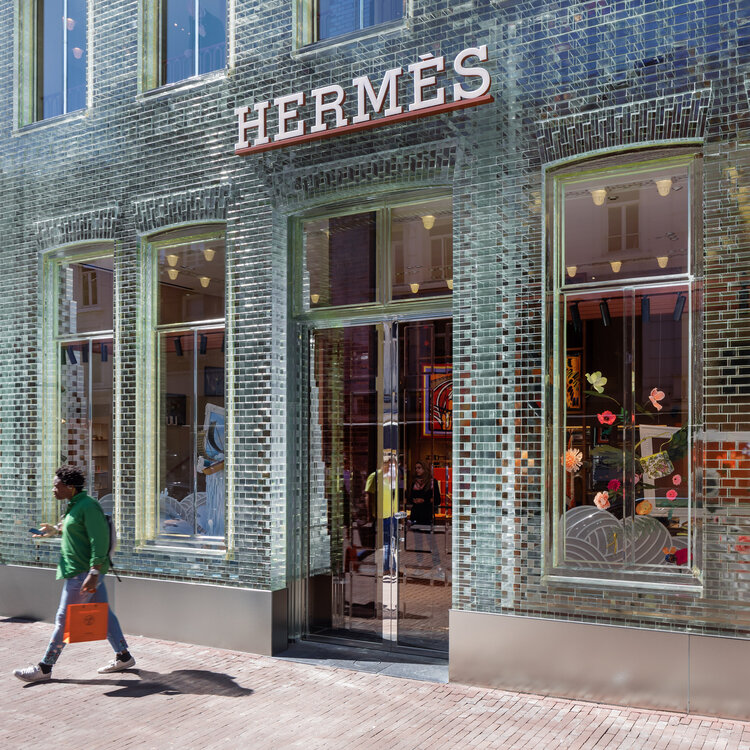 Hermès made headlines in 2019 when, in Amsterdam, it opened a two-storey boutique in a building with a facade composed of glass bricks. Designed by MVRDV as a townhouse, and once occupied by Chanel, the glass facade of the store immediately fascinates passersby who can look through the wall and make out shapes and colors inside of the store. The structure known as Crystal Houses, which occupies a prominent plot on one of Amsterdam's most well-known retail streets, seems to challenge both the architectural homogeneity of the street as well as Hermès' own conservatism.
2. Dior Flagship, Paris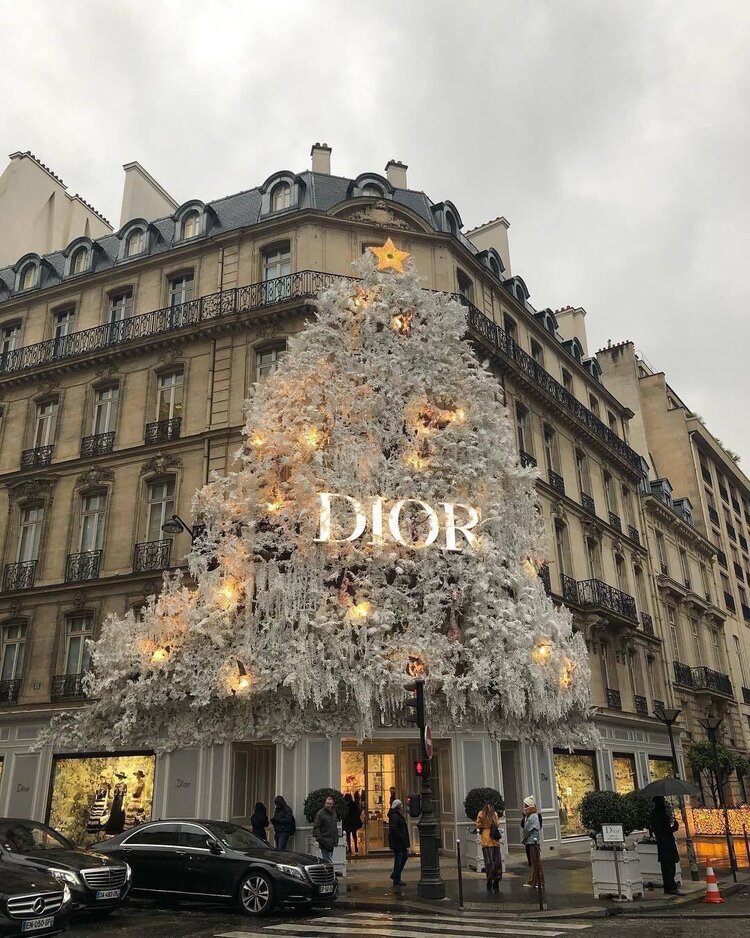 Dior's Paris flagship store, located on the Avenue Montaigne, is known for reinventing its facade with each passing season. Though every iteration of the store's facade is worth talking about, Dior absolutely shattered expectations with it's Christmas 2018/2019 installation; an elegantly proportioned, yet all-consuming white Christmas tree which glowed a warm yellow at night and shielded customers as they entered and exited the boutique. Though I've attached my favorite photo of the tree, I think it's well worth your while to Google this one and browse further.
3. Louis Vuitton, New York and London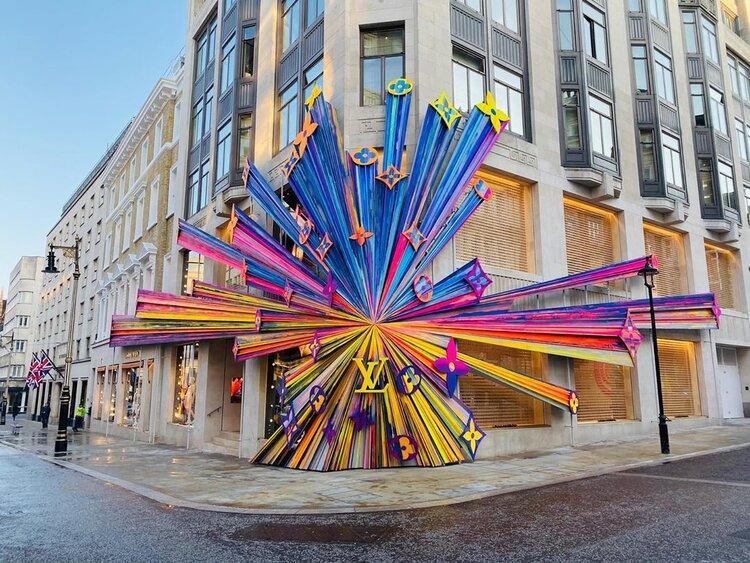 Two storefronts well known for their constant reinvention are Louis Vuitton's New York and London flagships. As with Dior, it is certainly true that every Louis Vuitton location adopts a universal, seasonally changing design language to keep each location recognizable and current. But while Dior makes its biggest statement in Paris, Louis Vuitton goes all out in Manhattan and London. Under the visual creative direction of Faye Mcleod (@fayedreamsaloton instagram), a new, colorful, three-dimensional explosive look was created for the LV monogram.
This new visual was painted onto the 10+ storey facade of Louis Vuitton's Midtown Manhattan location, and was rendered in metal and attached to scaffolding at LV's New Bond Street location in London for a genuinely three-dimensional experience. This 3D rainbow monogram motif was also installed in Louis Vuitton boutique windows across the world, taking the shape of hearts, orbs, and even a full size Christmas tree in LV's Place Vendôme location in Paris.
4. Goyard, Monte Carlo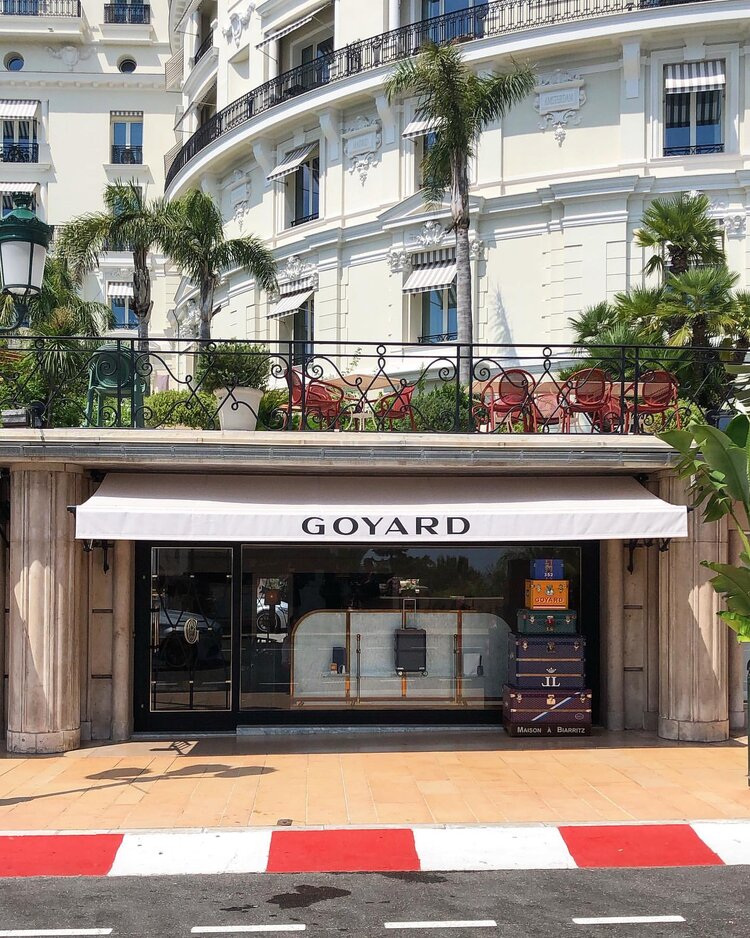 Having had an intermittent presence in Monte-Carlo since the end of the 19th century, Maison Goyard has recently returned, opening up at an address along the city's famed Avenue de Monte-Carlo. While I am appreciative of the storefront itself (a pared down, monochromatic single-storey glass and stone facade with immaculate white awnings printed with "GOYARD," the whole store topped by a lush pedestrian walkway), the store's location is much more interesting. As can be seen in the photograph, the store sits right along the famous route of the Formula 1 Monaco Grand Prix—perhaps the single most important circuit in Formula 1 since its inauguration by Prince Pierre in 1929. The physical situation of the store not only implicates it in the excitement of nearly a century of sporting history, but also ensures that the Goyard banners will be seen anytime filming occurs along the track.
5. Burberry, Chicago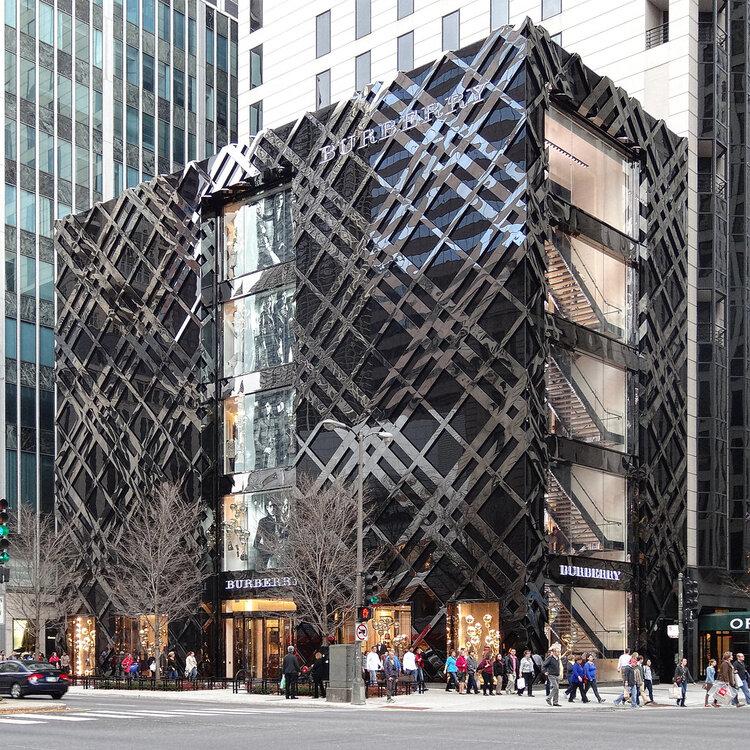 Finally, as MODA is based in Chicago, I feel that it is only fair to include a storefront from our very own city. It may not come as a surprise to Chicagoans that I have selected Burberry on the Magnificent Mile. Positioned across from The Roastery, the largest Starbucks location in the world, is the glossy, midnight black Burberry boutique. At first glance, it appears to be simply a large and tall volume, cut up the center by windows that display products and ad campaigns. What one finds upon closer inspection, however, is that the building is actually festooned with the historical Burberry check, rendered three-dimensionally to stand out slightly from the building itself. Even more spectacular is the bright white light which emanates from behind the check at night, casting an elegant yet whimsical glow against the polished structure.
---
The next time you find yourself window shopping or looking for something in a store, take some time to appreciate your physical surroundings, because someone spent a great deal of time designing the visual impact with you in mind.
Featured Image via