Nov 1
"Diamonds are a girl's best friend" goes the perennial 20th century proclamation of the innately feminine love for precious jewels. At the same time that this phrase was coined, the late 1940s, De Beers, which once controlled over 80% of the world's diamond supply, launched its enduring "A diamond is forever" campaign, which spawned the modern practice of sealing a marital engagement with a diamond. Though it is true that both of the above turns of phrase continue to drive the purchase of high volumes of diamonds and other precious stones for women, it is also true that male celebrities are stylishly pushing for more inclusive conceptions of the ways in which men can interact with jewels.
One might rightly scoff at the idea that men wearing jewelry is new, and it is at this point that I must refine my focus. Of course men have historically worn jewelry, but it has been men's jewelry as opposed to women's jewelry; a frail yet highly enforced dichotomy that is acutely representative of the broader Western proclivity for dividing all facets of life along gender lines. While the 20th century and part of the 21st century narrowly defined men's jewelry as bulky, relatively dull, and gemless pieces such as cufflinks and timepieces, the last five years have seen some of the most aggressive de-gendering of even the most traditionally feminine jewelry styles, such as the brooch and lapel pin. In an effort to both celebrate and amplify the democratization of high jewelry that has unfolded in fabulous style on red carpets for the past several years, I share with you five times male celebrities have shined in ethereal jewels.
5. Pharrell Williams, 2017 Academy Awards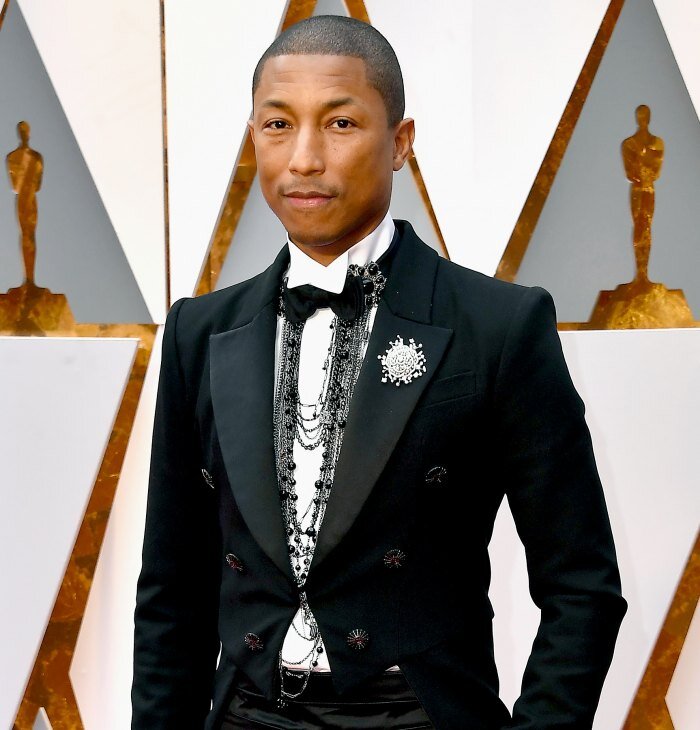 Pharrell seems to appear frequently in my writing, and this is no mistake. As one of the only people alive to have collaborated with Chanel as an individual, and as the inspiration for a million dollar Richard Mille timepiece, it is perhaps no surprise that Pharrell comes up frequently when discussing celebrities who push the boundaries in fashion and jewelry. In 2017, Pharrell walked the red carpet in a predominantly black Chanel suit, offset by a dazzling broach of white diamonds which appear to be set in either white gold or platinum with pearls.
4. John Legend, Vanity Fair Oscar Party 2019
In 2019, John Legend wore a Dennis Tsui brooch of diamonds, blue sapphires, and a large yellow sapphire set in white gold. The brooch, named the Galaxy Pin, is notable for three reasons. The first notable facet of the Galaxy Pin is its designer, Dennis Tsui, who is a rising star in the world of high jewelry. Having only recently entered the high jewelry space, it is a testament to Tsui's creative genius that he would so quickly be tapped to provide John Legend's red carpet flash. The second noteworthy aspect of this brooch is its movement; rather than simply being a static piece of jewelry pinned to a lapel, there is also a gracefully proportioned chain which is accented with a yellow stone (probably a sapphire, possibly a yellow diamond) which is itself set in a magnificent halo of white diamonds. Finally, the presence of colored jewels in the Galaxy Pin sets it apart from equally beautiful yet less interesting pieces produced purely of monochromatic stones.
3. Timothée Chalamet, 2020 Academy Awards
Though I cannot in good conscience rank Timothée Chalamet's Academy lapel pin as the best example of men's brooch/lapel pin wearing on the red carpet, I must admit that it is my personal favorite. Having a deep sweet spot in my heart for Cartier jewels, colored stones, and vintage pieces, this 1955 ruby, diamond, and platinum lapel pin sweeps me off of my feet. As a piece viewed in a vacuum and devoid of context, it is already magnificent; large, clear, and creatively arranged diamonds set off by Burmese rubies (a distinction that is important to draw as rubies from Burma are of the highest clarity, and the deepest blood red) in several different cuts makes this piece exemplary of Cartier's jewelry design language during the first sixty years of the 20th century. Pairing this sumptuous lapel pin with a characteristically restrained Prada ensemble guaranteed Chalamet's outfit a spot in the best looks of 2020.
2. Chadwick Boseman, 2019 Screen Actors Guild Awards
The late and great Chadwick Boseman, in addition to being a guiding light and source of inspiration for countless young people, was also a confident wearer of fine jewels. At the 2019 Screen Actors Guild Awards, Boseman donned three Tiffany & Co. Schlumberger clips of white gold, yellow gold, and diamonds. It is not often that men are seen wearing jewelry inspired by delicate flora, and the simple daring of this choice makes it all the more stunning to see on the red carpet.
1. Billy Porter, 2019 Golden Globes
The trifecta of Oscar Heyman flower brooches which cascaded down Billy Porter's lapel at the 2019 Golden Globes were sadly overshadowed by the rest of his exceptional ensemble, itself a piece of art designed by Randi Rahm. The brooches, awash in vivid colors and sprays of vibrant diamonds, partially utilize a setting technique pioneered by the legendary house of Van Cleef & Arpels in the 1930s, known as the invisible setting. This technique is one in which the stones are set such that the mountings are not visible, thus allowing the stones to shine ever more brilliantly in the absence of prongs. The top brooch appears to be of white diamonds and green enamel flower petals, the middle of white diamonds and yellow sapphires (or possibly yellow diamonds), and the bottom brooch of white diamonds and invisibly set rubies.
At a moment in the near future, life will return to normal and we will once again inevitably find ourselves passively taking in the glamour of celebrities on red carpet events. When that moment comes, I hope you will not look only at the garments with awe and wonder, but also the jewels.