When one thinks of luxury travel, a certain set of assumptions usually come to mind. First class plane tickets, glamorous and lavishly appointed hotel rooms, exotic restaurant experiences, and European destinations, to name a few. However, for those travelers who have become disillusioned or simply bored with the quintessential European vacation, there are luxury trains, and specifically luxury trains in the Eastern Hemisphere. Offering stunning views, seasonal & local cuisine, and a fresh perspective on immersion in some of the world's most interesting locales, vacations by rail are the new way to see the world. Having become bored with the standard vacation myself, I stumbled upon luxury train travel on YouTube and was instantly hooked, so it is with great enthusiasm that I present these exciting alternative adventures.
1. The Seven Stars Kyushu
For those who wish to indulge in a luxurious yet unpretentious rail vacation, The Seven Stars in Kyushu sets the bar. Situated on the island of Kyushu, Japan's third largest island, The Seven Stars in Kyushu has aimed to take advantage of the island's natural splendor since 2013, and gains its unique name from the seven prefectures on the island of Kyushu. In another nod to its namesake, The train contains seven cars and 14 guest compartments, allowing for a maximum guest occupancy of 28 which ensures that each guest has the opportunity to revel in all that the train has to offer. Trips range from 2 days & 1 night to 4 days & 3 nights, including stops at various prefectures throughout the island which allows guests the opportunity to experience both the island's stunning natural beauty and cultural richness at close range, though one may just as well opt to stay on the train and take in the landscape through the floor-to-ceiling windows in certain cars. To that end, The Seven Stars is replete with amenities which allow guests to reflect on their experiences in an atmosphere consciously created to harmoniously blend Japanese and Western design; guests can socialize and drink in the Blue Moon saloon car, or experience seasonally changing local cuisine in the sophisticated atmosphere of the Jupiter dining car. Because of the seamless blend of Japanese hospitality and dramatic scenery, potential guests of the Seven Stars in Kyushu are chosen by lottery and typically book several years in advance, despite the fact that tickets can cost in excess of $10,000 U.S.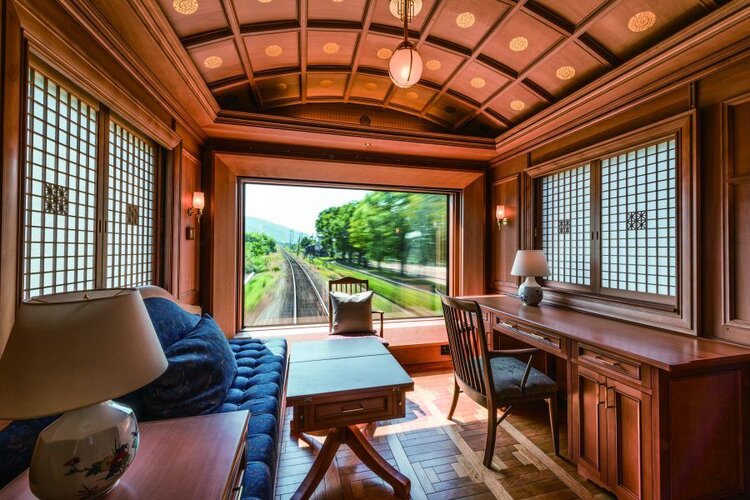 2. Shiki-Shima
Taking a decidedly more modern approach to luxury train travel, the Train Suite Shiki-Shima explores the interior of eastern Japan on trips ranging from 2 days & 1 night to 4 days & 3 nights. The train's unusual exterior appearance belie its spectacularly airy interior which consists of unparalleled views from each of its 10 cars which can house a maximum of 34 guests. In fact, a quick visit to the train's website will reveal the terrace cars, two cars on the front and end of the train which are shaped to optimize the views of the passing terrain, and it should also be mentioned that the movie featured on the website is well worth your time. While the Seven Stars in Kyushu tops the list for its seamless blending of old & new, Japanese & Western, those who want a more modern experience will likely prefer this option.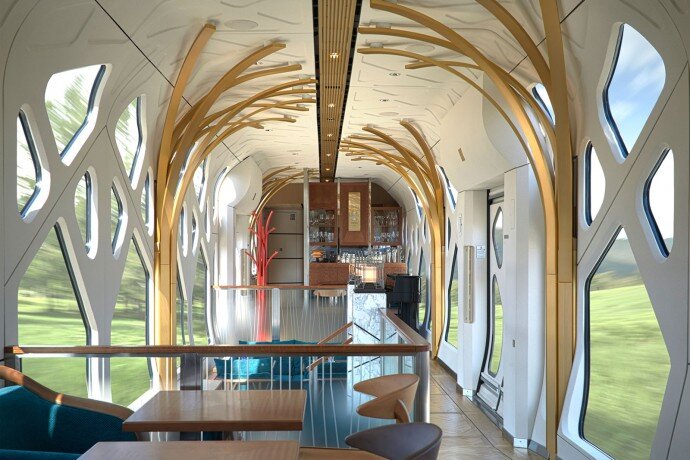 3. Maharaja's Express
For those seeking a much more opulent experience that makes little concession to modesty, there is the Maharajas' Express in India. With longer trips averaging 7 days & 6 nights, Maharajas' Express is already a leading option for those who want a more comprehensive rail vacation. Overtly recreating the opulence of the Royal Era in India, the train is laden with red carpets, jewel-studded beds, and each of the 14 guest carriages is even named after the precious jewels of various Maharajas. Routes available to guests on the Maharajas' Express center around visits to a number of India's greatest commercial centers, or visits to historical sites of Indian royalty. Of particular sensory interest is the Mayur Mahal restaurant car, where guests are transported to a bygone era of luxury dining complete with luxuriously embellished furniture and soft, golden lighting.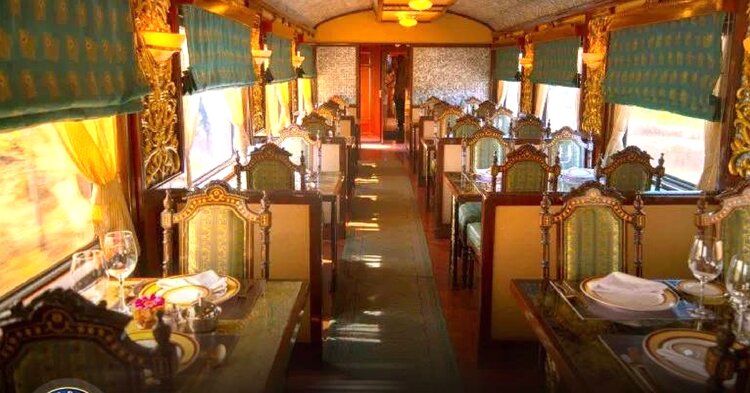 4. Rovos Rail
Currently celebrating its 30th year in operation, South Africa's Rovos Rail operates eight different routes, in addition to special packages. The Rovos Rail can carry a maximum of 72 passengers, making it the most accessible of all the trains on this list. A unique and distinguishing feature of Rovos Rail is it's history of bringing storied and decommissioned train cars back into service, interesting both for the novel and historic experience this engenders, but also because it recycles train cars rather than necessitating the production of new ones, and though sustainability is not a focus of Rovos Rail or of the luxury train industry in general, Rovos Rail seems to be setting a precedent here that should be followed by the luxury train industry if possible. If one wishes to see South Africa in a way that not many have, Rovos Rail is a prime option.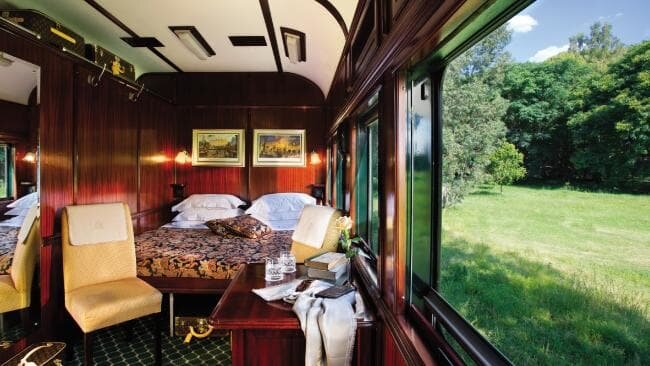 Featured image via