John Hughes Films and 80s Fashion
The last several months have been the most challenging and uncertain time many of us have ever faced. With record numbers of people losing jobs, students being forced to return home from school, and nearly all of us risking our health and that of others simply to make a run to the grocery store, there is much that appears bleak right now. As pertains to those of us who love to dress and are now stuck at home without a reason to carefully consider our garments every day, self-quarantining can feel like a creative block. Wishing to bring some inconsequential drama back into my life in lieu of the gossip my friends and I would regularly exchange in campus coffee shops, I turned to rewatching John Hughes cult classics like Ferris Bueller's Day Off, The Breakfast Club, Pretty in Pink, and Sixteen Candles. While watching Ferris Bueller's Day Off and Pretty in Pink in particular, I was surprised to find so much iconic mid-80s fashion on display, and in the spirit of staying at home while still remaining inspired by how people dress, I present the most fashionable characters in Ferris Bueller's Day Off and Pretty in Pink.
1. Sloane Peterson
Sloane Peterson, played by Mia Sara, was Ferris Bueller's effortlessly gorgeous girlfriend. Throughout the movie, Sloane is seen wearing a white, cropped fringe jacket with gray above-the-knee shorts and beaded white boots to match the jacket. The cowgirl-meets-Los Angeles aesthetic is completed by Sloane's light brown leather crossbody bag, and the Cartier Must de Cartier watch that sits on her wrist alongside a delicate bracelet. Combining this ensemble with the demeanor of the character that Sara plays ensured Sloane's status as an 80s teen movie icon.
2. Jeanie Bueller
Jeanie Bueller's contribution as a fashionable character in Ferris Bueller's Day Off has less to do with her outfit per se, and more to do with her accessories, chief among them being her quirky, angular 80s car (which Ferris is quite jealous of) and her tote bag that she's seen angrily lugging around throughout the film. Perhaps intentionally, Jeanie's bag is featured quite prominently in many of her scenes; it's a glossy black tote covered in large, distinctive patches which seem to be logos of some kind, and the bag itself sticks out particularly because of how dark it is in contrast to her bright pink sweater. Then, of course, there's her car; a white, 1985 Pontiac Fiero which Jeanie is seen throwing around the road in several scenes, eventually skidding to a halt in the Bueller's driveway towards the end of the film. Given Jeanie's brooding and decidedly perturbed disposition, the bag and the car both seem to be more extensions of her personality rather than simply objects she uses.
3. Katie Bueller
As one of Ferris' responsible and doting parents in Ferris Bueller's Day Off, Katie Bueller is perhaps the most unexpected character from the film to make it into an article about 80s fashion in teen films, yet a closer look at her outfit reveals some interesting insights into business casual dressing in the 1980s. Pieces of her look that stand out include her shiny one piece necklace, gaudy earrings, and belt with an asymmetrical geometric buckle (sadly not pictured).
Moving on to Pretty in Pink, a movie which follows a few days in the high school experience of a girl who makes many of her own outfits, it is only fair that we first highlight the fashion prowess of the protagonist Andie Walsh, played perhaps unsurprisingly by Molly Ringwald (a staple in many John Hughes films).
4. Andie Walsh
Perhaps what is so compelling about Andie Walsh in Pretty in Pink is not her outfits themselves, but the fact that they had been handmade. The storyline of the movie prominently features scenes of classism and highlights the financial disparity between the students of Andie's school in frequently shocking, if not terribly nuanced scenes, so Andie's intricate handmade outfits not only serve to please aesthetically, but also to mock the de facto uniform of the wealthy students. As such, Andie's outfits are often wonderfully layered and complementary to her sunny yet serious attitude, and the movie culminates in the unveiling of the pink (shocking!) dress she created to wear to the prom.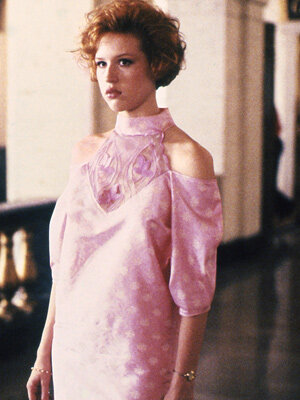 5. Iona
Iona, the owner of the record store at which Andie works, so perfectly embodies the stereotypical outlandishness of the 80s club kid that her looks end up being unashamedly kitsch, moving wonderfully from one pole of eccentricity to the other. Throughout the course of the film, Iona presents a 50s version of herself (in a pink dress which is to become part of Andie's pink dress), a version of herself who wears spiked hair and elbow length gloves, and a version of herself who wears white hair and would have looked perfectly at home in a scene from Beverly Hills Cop.
6. Duckie Dale
Finally we arrive at Andie Walsh's best friend and longtime admirer, Duckie Dale, who is so named in large part because of his duckbill-like white shoes. Duckie's outfits largely play into his trademark goofiness, his shoes being case-in-point, and ensure that taking him seriously is an impossibility. Ultimately, though, there is still something admirable about the confidence he demonstrates through his wardrobe.
Having made what I believe is far too long a list of fashionable characters from movies by a single director/screenwriter from a time in film that is long past, I hope I have, at the very least, added a few cult classics to your watch list. Now that we're all stuck at home spending an inordinate amount of time in front of screens, rewatching our favorite films with an eye to how they may have influenced our styles is a whimsical but worthwhile endeavor at any time, but especially today.
Featured Gif via